 Oleh Yayasan Kawan Baik Indonesia
& Fair Future Foundation
"Rumah Kambera"; "Rumah" berarti tempat tinggal dan Kambera adalah nama kecamatan. Kami memilih kata "rumah" dengan sengaja, karena selain menjadi kantor masa depan kami di Sumba, ini juga akan menjadi tempat pertemuan, kegiatan berbagi, belajar mengajar, rumah singgah untuk relawan, tempat bertukar pikiran, ruang bermain, menemukan ide-ide inovatif, semua dengan visi bersama, yakni untuk meningkatkan kualitas hidup masyarakat yang tinggal di daerah Sumba Timur.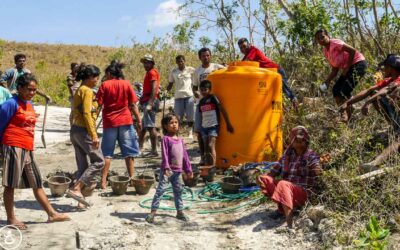 Sumber : Kawan Baik Indonesia
SUMBA PHOTO STORIES
Sebuah proyek pendampingan fotografi untuk menjadi media berekspresi dan bercerita melalui foto. Dimulai sejak Januari 2020, pelatihan telah dilaksanakan di dua sekolah, di dua desa, di bagian timur Sumba.
BANGUN MBINUDITA
sejak Agustus 2020 kami membangun kembali sekolah yang roboh terkoyak angin pada akhir tahun 2019. Dengan pembangunan ini, setiap tahunnya 65 hingga 100 anak dapat bersekolah dengan aman dan nyaman.
FIRST AID KIT
Sebuah proyek yang bertujuan memberikan pertolongan pertama melalui kotak P3K yang akan dibagikan ke setiap sekolah dan tenaga medis tradisional yang di dampingi tenaga Faskes di Sumba Timur.
SEKOLAH KAMPUNG
Sebuah proyek bersama Sekolah Charis Sumba. Dalam empat tahun terakhir, di bidang pendidikan, Sekolah Charis Sumba telah mendampingi 37 guru di 18 sekolah kampung terpencil, terutama sekolah PAUD dan kelas darurat di area Sumba timur.
AKSES AIR BERSIH
Salah satu masalah utama di Sumba Timur adalah terbatasnya akses untuk memperoleh air bersih. Umumnya masyarakat masih mengandalkan mata air, sumur, dan tampungan air hujan namun masih belum mencukupi kebutuhan pokok air.
KEBUN
Salah satu aset terbesar pada rumah ini, adalah lahan dimana rumah ini berdiri; areanya cukup luas dan cocok untuk bercocok tanam, kami akan membuat taman dan kebun.
This error message is only visible to WordPress admins
There has been a problem with your Instagram Feed.
Matawai: Fair Future's Eye-Opening Documentary on East Indonesia's Water Crisis
Matawai : Le documentaire révélateur de Fair Future sur la crise de l'eau dans l'est de l'Indonésie
#ZeroMalaria Program in Mbatakapudu, Village of Laindatang, East Sumba
Asssaria, 9 years old, must have surgery quickly for his very serious burns to her legs & lower back
Lukukamaru, NTT - Feasibility study of a deep drilling project and access to clean water
Water Connections Project - A life without water in MbinuDita village
Solar buddy. 100 solar lamps for 100 Solar Kids from East Sumba
Water Management Training Course